eBooks Self Publishing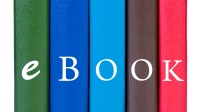 Call it the Fifty Shades of Grey phenomenon, but publishing and eBook conversion has now become an essential tool for self publishers. YPS Publishing can help authors focus on the most profitable opportunities for developing, distributing, marketing and selling eBooks.
You can't argue with the facts. eBooks, whether we like them or not, are shaking the foundations of the publishing industry. Self publishers can't ignore how this change affects them, adding a potentially lucrative income stream as well as levelling the book distribution playing field. eBook distribution will turn the tables upside down by fully democratising book distribution and cutting out the middlemen wholesalers who all want a piece of your profits! With an eBook, self publishers do not have the same struggle to compete with the big, mainstream publishers for bookshop shelf space. The question for authors, therefore, is no longer "Should I publish my book as an eBook?" No, it's "How can I successfully publish into an eBook?"
There are many companies offering eBook conversion for £100 or even less. Most of them will just take your manuscript file and simply convert it using automatic conversion programmes. They will not usually concern themselves with the content or presentation of your book. There's a huge difference between books that are prepared and converted by publishers who produce eBooks to the same quality and standard as printed books, and eBook conversion companies, who are often overseas. 
At YPS, we work with you to design and publish your eBook to the highest possible standard, so that it stands out against the mass of low quality eBooks presently swamping the market. Our pre-production stages are exactly the same for an eBook as for printed books. Our in-house book designer does all cover designs and text layouts. You can pick and choose from the same extensive list of extra services that we offer for traditional publishing, from copyediting to marketing.
We also offer specialist eBook distribution alongside our standard Book Distribution package. We upload your eBook file to the major eBook retailers worldwide, collate the sales, sort out the tricky VAT accounting, and pass you the revenue on a monthly basis.
In Brief...

  If you publish your eBook with YPS we will provide the following services:

eBook production

·       Digital editing and cleaning of your supplied file

·       Cover design by a professional book designer

·       Page design and layout by a professional book designer

·       Printed proofs for you to check, amend and correct.

·       eBook conversion for both mobi (kindle) and epub formats (iPad and other eReaders)       

·       Proofs of both eBook versions for you to check

·       Facility to publish printed editions at a later date without having to start the whole layout procedure again.

eBook distribution

·       Upload your eBook to the major eBook retailers worldwide, including Amazon (worldwide), Kobo, iBooks, GoogleBooks and the YPS online bookshop.

·       Submit the eBook metadata and book category codes to the online retailers.

·       Consolidate the sales from each of the eBook retailers and pass to you the sales revenue each month, without deducting a commission.

·       Sort out all the VAT accounting.

 
Why can't I do it myself?
You could. However, there's a huge difference between books that are converted by a dedicated professional who knows how to manipulate the files to get the best result, and the more or less automated conversion programmes around that give you whatever comes out the end when you push the "convert" button. It may also take you ten times longer than an expert to format an eBook as both ePub and Mobi (for Kindle) files!
Getting YPS Publishing to convert your book into eBook files that will read on any device is affordable and will save you hours of frustration. It will also give your readers a far superior reading experience. Not only that, but we handle the distribution and upload of your files to the eBook Retailers.
Each eBook version (ePub and Mobi files) must have a different ISBN number to the physical book. Our conversion process includes registration of your eBook ISBN numbers with Nielsen BookData.
Amazon and Kindle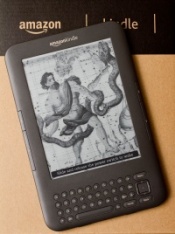 Amazon's Kindle format continues to be the most popular way to buy eBooks. It has spread thanks to the introduction of Kindle Apps for almost every platform including mobile operating systems. You can literally buy, download and read books from the Kindle store on almost any computing device available. Kindle sales account for somewhere between 60 and 80 percent of the market. For many people, eBooks are Kindle books.
There are now over 20 million eReaders in people's hands. And we know that people with eReaders just read more. And buy more books. And that doesn't include the hundreds of millions of smartphones, many of which can also host the Kindle App.
Smartphones: The Next Home of the eBook?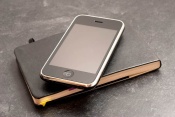 This is where it starts to get interesting for content creators like self-published authors. As more people get used to the bright screens and beautiful resolution on today's smartphones, reading Apps are likely to get more and more use. Although reading on the phone hasn't broken into the top 10 activities of mobile users yet, the quick growth of eBooks suggests it will accustom people to reading on devices like their phone. 
eBook Distribution
Self publishers need to get their eBooks onto as many digital shelves as possible. At YPS Publishing, as well as uploading self publishers' eBooks onto our own eBookstore at YPD Books, we are also constantly expanding our eBook distribution to an ever-growing number of retailers, Amazon included, to ensure that our authors' eBooks are widely available both in the UK and overseas.
As with physical books, we receive regular book sales reports from our growing list of distributors and retailers. These are then consolidated and passed on to authors. Most eBook retailers will require a 30% commission from publishers. However, there is absolutely no commission on any eBooks sold through our YPD ebookstore. DRM (digital rights management) – A DRM protected eBook can only be read on an eBook reader or device registered to the purchaser. We will discuss the pros and cons of DRM with every self publisher, as many authors prefer us not to upload their titles with rights controls.
Self publishers set their own price for their eBooks, but currently, the standard retail price of eBooks is slightly less than paper books.
In conclusion
eBooks can be a very cost-efficient way of making your book available on a multitude of eReading devices, from a variety of retailers. Not only that, the publicity generated from eBooks can often enhance the sales of the paperback version. Our team at YPS Publishing can make your eBook conversion and distribution process simple! Please just send us an email or give us a call for a chat.
A Case Study
eBooks and a book trailer! One self publisher's guide to using new technology to market his books.

In 2008 I self published Your Country Needs You, initially with an altogether different cover.

I then set about taking the book to market – and to be honest made very little headway. It was so frustrating. The buyers at various wholesalers told me that whilst the plot was good, the cover was not 'commercial' enough. What on earth does that mean?

I passed the problem to the YPS design department, whilst I set about writing a sequel, A Very Special Relationship, with an American flavour. As you can see, YPS came up with a daring and bold redesign that hits you right in the face! So when Her Place in the Sun (which is set in Australia) came along to complete the trilogy in 2010, the same theme prevailed. The stunning results speak for themselves. So the writing and production was complete, but what do you do next to promote and sell a book? Well, only a year ago you would have sent review copies to buyers at bookshops and wholesalers, then sat back and hoped for the best. You would have had a long wait as their 'in trays' are full of JK Rowling wannabes. In all probability, the result of all your work would simply gather dust.

Luckily the last twelve months has seen a revolution in the way that books are both read and sold. New technology is making it much easier for authors to promote their books. eBooks are now the name of the game and you have to utilise this option to really get into the marketplace. Amazon has announced that they now sell more eBooks than hard copies and this trend is set to continue.

All three of my books are now available as eBooks, both via the ypdbooks.com internet bookshop and on Amazon for the Kindle. Now YPS is also developing me an App for iPhones and iPads in the form of a mini-bookshop. How cool is that? And finally the icing on the cake – a short 80 second promotional video was designed by YPS and their partners in the USA. It's now on YouTube and Facebook.

Social networking is a major tool for an author looking to effect worldwide sales. A year ago I was a technophobe. Now I am the internet's biggest fan as my books are downloaded and read the world over. Oh yes, and before I forget, there's money in it as well!

YPS is the only 'one stop' destination for self-publishers. The world is not just your oyster – it is your customer.

- MV Harland

View or buy Marks books on YPD